Conference: Current Investment Opportunities
While the Federal Reserve (United States' central bank) has just announced an interest rate hike and the situation regarding the war between Russia and Ukraine is still unclear, global financial markets have recently been hit by a series of "earthquakes."
Chinese MBA students had the opportunity to attend a conference on the theme: How will geopolitical risks and market volatility affect the global economy? How can investors find opportunities amidst this financial turmoil?
On March 24th, ISTEC and ACESF (Association for Educational Communication Otherwise-French) invited Mr. Kevin HUANG, an investment expert in financial products at HSBC Bank, to provide an in-depth analysis of the current global financial situation and an overview of current investment opportunities.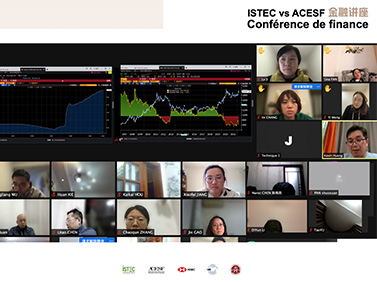 During the conference, Mr. Kevin HUANG presented a thorough analysis of the current development of the international capital market, the international foreign exchange market, and the international commodity market. Currently, international financial markets are underperforming, with the overall European market index, the U.S. S&P 500, and the Nikkei 225 index all declining by approximately 6.5%. The Chinese A-share market has experienced a total decline of 16.61% in the Golden Dragon Index since the beginning of the year. Among the significant influencing factors are Covid-19, the war between Russia and Ukraine, the Federal Reserve's interest rate hike policy, and inflation.
The war between Russia and Ukraine, two major commodity-producing countries, has caused tremendous volatility in the global economy, with a general increase in inflation and a sharp rise in international commodity prices, including international prices of oil, gas, rare earths, and food commodities, all of which have surged in the past two weeks. The U.S. Federal Open Market Committee (FOMC) also officially announced its interest rate hike policy in its March 16th meeting statement: the target range for the federal funds rate was raised to 0.25%-0.5%. This series of decisions is likely to create greater uncertainty in financial markets. The next two years will be a period of rapid interest rate hikes for the Federal Reserve.
Chinese financial markets have also been affected by domestic policies and international events. However, regarding the international foreign exchange market, the RMB exchange rate's performance remains strong. This is an ideal time for Chinese investors to reduce their holdings in RMB and increase their holdings in USD or exchange foreign currencies.
At the end of the conference, ISTEC MBA students had an exchange and in-depth discussion with Mr. HUANG, delving into the future direction of the global economy and investment in art and financial derivatives.
Ren SHULEI – ISTEC China Representative